How to Make the Back and Menu buttons vibrate on Touch Samsung Galaxy Y
Hello guys ,Today I am going to show you haw to make the menu
and back buttons of your Galaxy Y vibrate on touching.If its nice for you if your phone vibrates for a fraction of second when tou touch buttons,just follow this steps
First of all you need a rooted phone .If your phone is not rooted check here
http://androzonestation.blogspot.in/2013/06/how-to-root-samsung-galaxy-y-s5360.html
You will have to do this by editing a file in the system directory.
So you will also need a root browser Download Root Explorer HERE
So lets get started.
Step 1
Start Root Explorer app and go to the directory:
/system/usr/keylayout/
There you should find a file qwerty.kl:
Step 2 -
Single tap on the Mount R/W button at the top right corner so that its mounted as r/w(Check if all things are same as that on the picture below)
long press on qwerty.kl file open menu.Now select "Open in Text Editor".
You should then see the following lines
KEY 158 BACK WAKE_DROPPED
KEY 229 MENU WAKE_DROPPED
KEY 139 MENU WAKE_DROPPED
KEY 59 MENU WAKE_DROPPED
Change all of the
WAKE_DROPPED
to VIRTUAL as on picture below.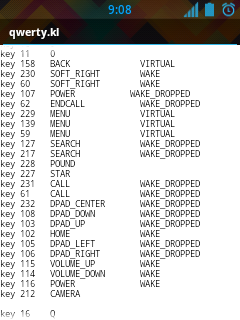 For Saving Changes open menu by touching menu button and save file.
You will get a confirmation that it is saved and a backup is created.
Thats all, Now you need to reboot your phone and enjoy the changes once it's rebooted.
If theres any problem or you need to revert back,just change them back to WAKE_DROPPED
or restore by changing the filename of .bak file below(just remove.bak) and delete the edited file.